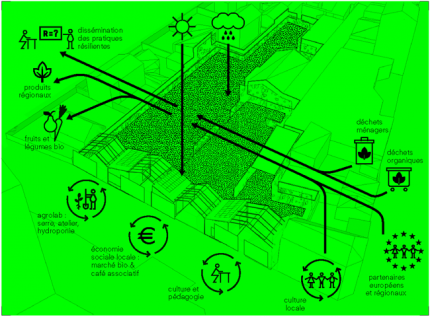 AgroCité is designed to introduce and support the dynamics of urban agriculture and provide support for the cultural and educational activities related to the R-URBAN project, currently emerging in the city of Colombes. The unit consists of three parts:
an area for activities related to nature and agriculture
an area for community gardening
an 'AgroLab' specialising in experimenting with intensive organic agricultural production
All three areas are made up of cultivable land and will include:
 an experimental urban agricultural farm
a shared garden for residents of the neighbourhood
an educational garden
a shared greenhouse for plants and seedlings, equipment for collecting rainwater, phytopurification, solar energy and biogas, aquaponics crops, agricultural short circuits, etc.
The buildings will include prototypes of organic intensive farming and a range of equipment and know-how covering:
 a seed library
a vegetable market and local agricultural products
collective Café and cooking facility
a collective bread oven
The construction of AgroCité begins in 2012. Those interested in participating, please follow the News section or use Contact section on the homepage.