Thursday Restaurant at Agrocité!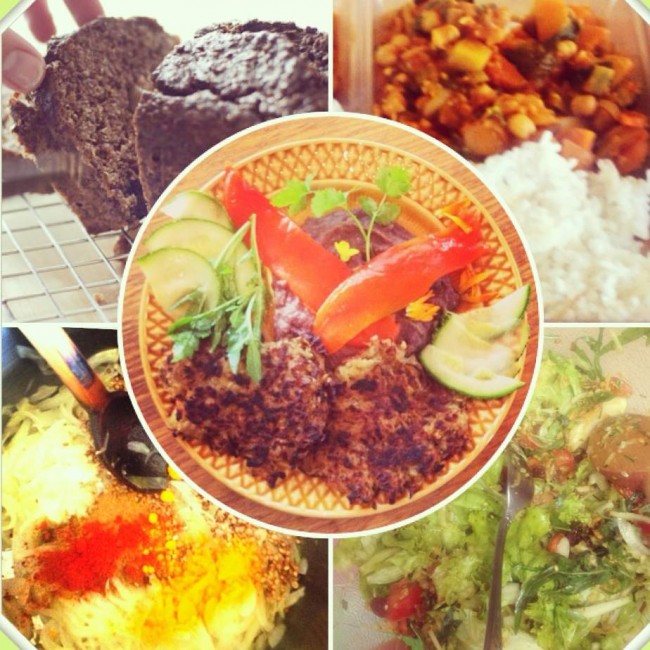 Agrocité has become the newest (and most delicious) place to have lunch in Colombes! Come Thursdays and you can recieve a plate of freshly prepared, fresh from the garden, nutritionally rich and tasty food, for only 5 euros. Each week is a different meal depending on whats ripe in the garden and the inspiration of the chef.
To give you an idea of the types of food you might recieve at our thursday lunch deals, here are some previous plates and you can find recipes below of some of the favourites so far:
Our first meal was a chard, chickpea and carrot curry, with rice and a cucumber mint raita, using the iron-rich and beautiful rainbow chard from the garden;
The next week we made a warming Moroccan soup, taught and led by one of the local residents, using herbal flavour of the garden ;
On our third lunch, we got a bit creative making fritters using the vibrant and flavourful zucchinis of the garden, as well as our very own spring onions, fava beans and coriander. This was served with a homemade tomato relish, rocket pesto from the garden, hummus, and a dark and tasty, homemade olive and quinoa bread.
By the fourth week, expectations were high and the zucchinis knew it. The colours and shapes they had developed meant that we couldnt possibly cut or cook them lest they lose their vibrant and fresh beauty. Instead we sliced them thin, with a bit of lemon, salt and olive oil and served up a zucchini carpaccio, with potato rosti, roasted capsicum and a red bean purée;
The most recent plate, served on the hottest of days, was a fresh and refreshing delight! A plate included a chard, orange, seed and pomigranite salad, as well as another salad of carrot, garden bean and greens, spiced onion, lentil and raisin salad. These salads were served with a capsicum and sun-dried tomato quinoa loaf and home made hummus.
QUINOA LOAF WITH OLIVES – the same recipe can also be used for the capsicum and sundried tomato loaf (replace olives with capsicum and tomato)
250 g quinoa
200 g unpitted olives (black and/or green) (or sundried tomato and roasted capsicum)
100 g olive oil
100 g fresh parmesan
200 ml milk (cow's, rice, soy…)
2 tsps baking powder
4 eggs
150 g corn flour (or wheat, rice, buckwheat…)
2 small branches of thyme
Handful of sunflower and pumpkin seeds
Baking paper
A loaf pan (this one is 25cm (10") long and 7,5cm (3") high)
Rinse thoroughly the quinoa in a strainer under cold water, then put it in a large saucepan and generously cover with water. Bring to a boil and cook for about 7 to 8 minutes after that, until the sprouts come out and the grains are somewhat crunchy. Rinse again in cold water and drain well.
Preheat the oven at 200˚C (395˚F).
Cut two strips of baking paper to fit in the pan, one lengthwise and one widthwise. Place them in the pan so that they stick to the sides depass the edge a bit (as in the photos)  to serve as handles when removing the cooked loaf. and will be helpful in taking the loaf out when it's cooked. If necessary, you can hold the paper in place using whatever you can find (oranges, apples, bottles of vinigar etc) while waiting to add the batter.
In a blender, mix 150g of the olives (set the rest aside), the olive oil, eggs and parmesan roughly grated. Put the mixture in a large bowl and combine with the milk, flour and baking powder.
Slice the rest of the olives (or capsicum and tomato) and add them to the mixture, along with the thyme, quinoa, seeds, salt and pepper. Mix and pour into the pan. Bake for about 45 minutes, until a knife inserted in the middle comes out almost dry.
Once out of the oven, let the loaf cool down a little before removing from pan, using the baking paper handles. You don't want to let it sit in the pan too long or it will get soggy. Take off the baking paper and let the loaf cool down on a cooling rack
(The recipe, slightly altered, is from Grossman and friends official blog : http://www.grossmanandfriends.com/post/51672622732/sabrinas-quinoa-loaf-ginger-sauce-crunchy)
Zucchini fritters
– zucchini (500 g)
– onion cut thinly
– garlic 2-3 cloves, grated
– parsley, handful
– mint, handful
– almond meal (50g)
– 3 eggs
– fava beans (if available)
– lemon zest
– pepper and salt to taste
– Grate the zucchinis into a colander, add salt and mix it with your hands. Let it sit in the colander for 10 minutes or so.
– Squeeze the zucchinis with your hands to get the water out, you really want to get most of it out. After squeezing, put the grated zucchini in a tea towel and squeeze some more. This help with keeping the fritters together when cooking.
– When its as dry as it can be, put the zucchini, parsley, mint, fava beans, onion, garlic, lemon zest, pepper and salt, almond meal and eggs into a large bowl and mix well. Add more almond meal if its too liquid.
– Form into small mounds with your hand, then cook on a saucepan with a bit of oil; about two minutes each side. Serve hot
Tomato Relish
– onions, 2-4, sliced in thin slivers
– garlic, grated (as much as you like, me i like a lot of garlic so i use a whole bulb)
– ginger, as much as you like, grated
– can of tomatoes (i used 4 cans of whole tomatoes, but maybe 1 or 2 is ok)
– cumin, paprika, chili, nutmeg, pepper, coriander seed, mustard seed and salt
– lemon zest
– wine vinigar (I used rice wine vinigar and apple cider vinigar but you can use any)
– raw or brown sugar  
– Cook the onions in oil and salt on a medium heat, with the lid on, stirring very occasionally for about 10-15 minutes or until caramelised;
– Add garlic and ginger, stir
– Add the spices, as much as you like- not too much
– Add the tomatoes (if whole, cut them in the saucepan), sugar, vinegar, lemon zest.
– simmer until thick
Hummus
– can of chickpeas (1 or 2 is good) – garlic (1 or 2 pieces) – juice of 1 or 2 lemons – tahini (1 or 2 tbsp) – olive oil (be generous) – a splash of cumin, paprika, pepper, salt (not alot)  
– put all of the ingredients in a blender, if it doesnt blend good add more olive oil or lemon, depending on taste.

Chard, orange and pomigranite salad
– bunch of chard, separate leaf from stalk (if they are tough and not nice to eat raw)- keep the stalks for cooking another time – juice of 1 or 2 lemons – 3-5 oranges, juice of 1 orange, and save the rest to segment for the salad – pomegranite – olive oil – rice wine vinigar – garlic (1 or 2 pieces) – pumpkin and sunflower seeds
– make the dressing by adding the oil, lemon juice, orange juice, vinigar, grated garlic, pepper and salt in a bowl
– add the chard, and massage the leafs with the dressing for 2 minutes or so (with your hands..)
– lightly roast the seeds in a saucepan or grill, de-seed the pomigranate, and add all ingredients together;
– Toss lightly and serve
Garden bean, carrot and spiced onion and lentil salad
– 4 carrots – green and butter beans – garden leafy greens ; rocket, lettuce, capucine, parsley, coriander, etc – onions, 2-3, sliced thinly – cumin, paprika, chili, coriander seed, pepper and salt – garlic (4-5 peices) and a nob of ginger – olive oil – rice wine vinigar – sultanas – lentils (one cup)
– Put the lentils in a bowl and cover with water, leave to rest overnight
– Cook the onions in oil and salt on a medium heat, with the lid on, stirring very occasionally for about 10-15 minutes or until caramelised
– Add garlic and ginger, stir and let cook for 2 minutes or so, then add spices, mix
– Add lentils, sultanas and a cup of water and simmer until there is no water left and the lentils are good to eat;
– blanche the beans in a pot by adding boiling water and letting sit for 5 minutes or so, until they are soft but still crisp. Drain and rinse with cold water, then break or cut beans into thirds
– grate carrot into bowl, add greens, beans, the spiced onion mixture, a drizzle of olive oil, lemon juice, vinigar and serve with a sprinkle of sesame seeds if you have available.