"Agro&Culture" Non-consumerist shop at Agrocité!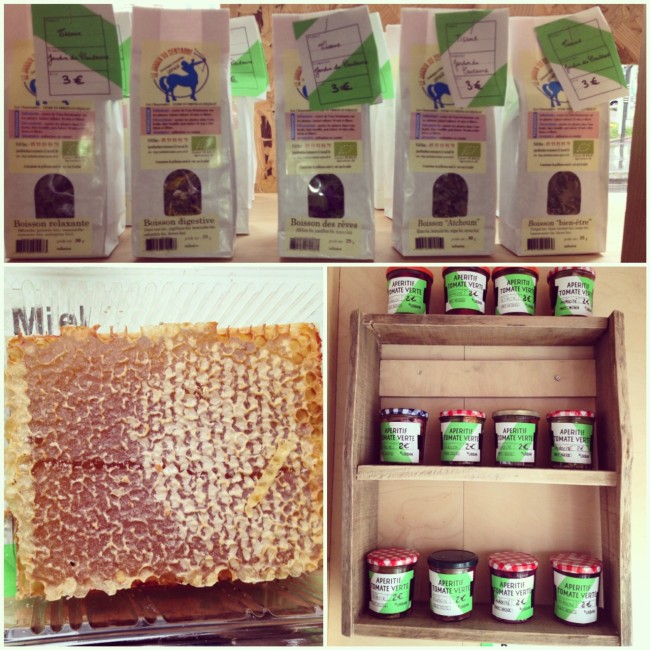 selling locally produced, seasonal and fairly traded goods!
At the moment we have available:
– Mandarin Marmalade and Green Tomato Preserves prepared at Agrocité by local residents, with products grown on site or recovered at the end of the market in Colombes!
– Organic Herbal Tea and Herb Mixes for cooking by Le Jardin Du Centaure
– Honey produced by the hives of Monsieur Albilio Leite, a local beekeeper of Colombes who has been taking care of a dozen beehives for five years
– Origami made by Madame Tan Hour, a resident of Saint Denis. Madame Tan Hour is 63 years old and practices origami during her free time. One piece  takes about two weeks of work; to sort the papers by colour, cut, fold and assemble into the masterpiece you see below!
– Feral Trade Coffee, sourced from Mexico and travelled to Agrocité through social networks, outside of commercial systems by Feral Trade, an initiative by Kate Rich to make transparent the transactions and costs involved in the whole trade process. Check out the label on the back of the packet to learn about the different hands your coffee has gone through!
(http://www.feraltrade.org/cgi-bin/courier/courier.pl)